The Birth of St. Joseph's College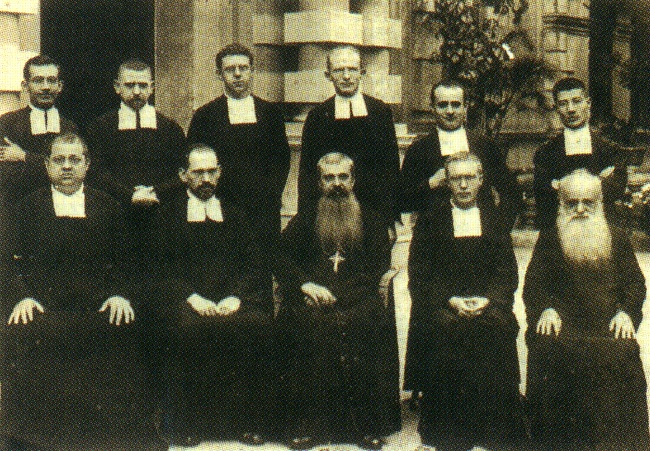 In 1875 Bishop Raidmondi appealed to the Superior General of the Institute of the Brothers of the Christian Schools and was given the assurance that a few Brothers would be sent to his as soon as possible.

Consequently, after a 42-day voyage, on 7th November 1875, the "Hougli" of the Messageries Maritimes steamed into Hong Kong, bring the six pioneers who formed in Hong Kong the first community of the Brothers of the Christian School: Brothers Hidulphe-Marie, Hidulphe-de-Jesus and Herbertus-Joseph from Marseilles; Brother Adrian-Edmund, Adolphus of Mary, from London, and Brother Isfrid from Paris.

Take-Over of St. Saviour's College
Brother Hidulphe-Marie took charge the very next day, 8th November 1875, of the English school, placing it under the protection of St. Joseph, special patron of the Institute of the Brothers. Henceforth St. Saviour's College was then renamed as St. Joseph' College.
On the arrival of the Brothers, 75 boys were attending the English classes and were accommodated in four rooms in Pottinger Street; this limited space had so far been sufficient for all the boys that had enrolled. But the Mission was poor and so was the Catholic population; and thus it was decided that for the lack of accommodation, no Chinese boys would be accepted for the time being. This restriction, however, was not pleasing to Mgr. Raidmondi, who in June 1876 purchased for $14000 a fine house situated at 9 Caine Road, and the Brothers at once moved into it.
Thought the problem of find accommodation for the ever increasing number of new students was temporarily solved, the school authority had to contend with financial worries as well. This problem was solved when Sir John Pope Hennessy, then Governor of Hong Kong in 1878, modified the education policy. With the creditable record to Government Grants under the grant-in-aid scheme.

---